Explore the underwater world, even when you can't dive into the sea. That's why Nemo was born. This is an extremely stable underwater drone with Ultra High-Definition 4K camera.
Nemo Underwater Drone is capable of diving up to 100 meters deep allowing you to take Ultra HD 4K quality photos and videos saved directly to the internal memory or stream via the app.
With its Virtual Reality function, you can even enjoy underwater viewing in real time, in high definition. Thanks to its unique 4-wheel design, Nemo can maintain perfect stability underwater.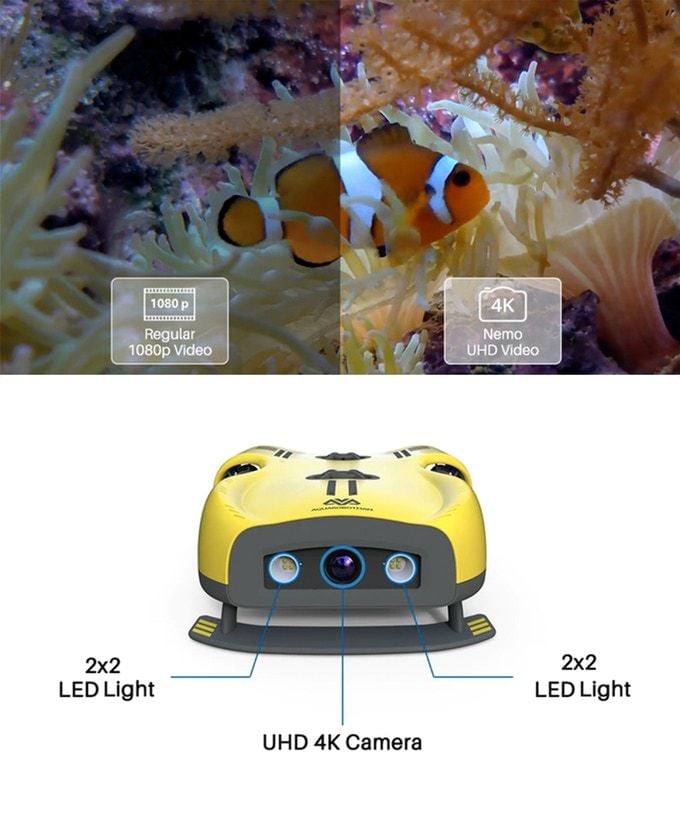 In addition to the UHD 4K camera, Nemo is also equipped with 2 groups of LED lights. This intense light brings out the colors and shows more detail about the coral reefs and the creatures that live on the sea floor.
Controlling Nemo is easy – just connect the app when there is a Wi-Fi network and turn on the journey tracking app. Nemo stores and transmits video over a special cable to the Wi-Fi connector.
You can then view the actual mode on the application installed on your phone or tablet. Add VR glasses to increase visibility with rich virtual reality experiences.
Nemo is built with revolutionary design and advanced materials. It is also the first drone of its kind that can be easily cleaned with water after use in salt water.
Just before you and your camcorder plunge into the water, there are a few important things to keep in mind to make sure you are like a professional filmmaker.
When you are in the water it looks great. Continue to the subject you are rotating slowly until you get closer to them. This will give a full rotation. This way you can see the material that you filmed after diving instead of risking having to salvage the camera at the bottom of the sea.